Global Water Facts: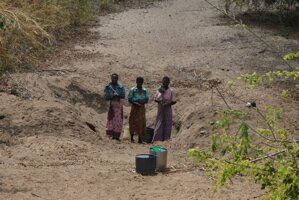 Malawi - During the dry season women dig holes in the bottom of dry river beds to get water.

WATER FIRST is a documentary film that aims to raise awareness of the need to prioritize water in achieving all of the 8 UN Millennium Development Goals (MDGs). Why should water be first?

WATER FACTS:



Over 4,000 children die from preventable water-related diseases every day - primarily because they can't afford clean drinking water
Over 1.1 billion people lack access to clean water
Over 2.6 billion people lack adequate sanitation
More children die of water related disease than any other cause of death, including AIDS and the violence of war.
In Africa, over 300 million people do not have access to clean water.
Of all the water in the world
97% is salt water
2% is locked in polar ice caps
1% is fresh, and includes all the lakes, rivers, streams and aquifers and over half of that is polluted.
Of that precious 1%, our annual usage is as follows:
70% is used for agriculture
20% is used for industry
10% is used for all other human uses.
WE ARE USING FRESH WATER AT TWICE THE RATE IT IS BEING REPLENISHED BY NATURE
Americans use over 100 gallons per person per day (Significantly more than anyone else in the world)
1 flush of our toilet (3-7 gallons) uses more water than the average person in a developing country has access to all day.
Most humans cannot survive more than 3 days without water
Our bodies are 70% water
Our planet is 70% water
For more information on global water facts, please refer to the World Health Organization.

HART PRODUCTIONS, PO Box 286588, New York, NY 10128-0006, USA
1-518-221-0163,